Working remotely as a software developer has been many people's ambition in this Internet era. Working with the world's best organizations independent of location is a perk many developers find more suited for their lifestyle.
Remote work opens up a world of possibilities, including more pay, reduced travel time, and a better work-life balance. Many organizations are getting compelled to reconsider how they operate.
Covid-19 has affected everyone on the planet. However, with the obstacles we face during the epidemic, there are several new opportunities, especially in remote jobs.
There has never been a better time for engineers to work remotely. Many firms have recently become remote-friendly.
This article is for people who don't have a job or have an office job but want to work remotely as a software developer.
What Does It Take to Work as a Remote Developer?
Before committing to a career as a remote developer, think about what it takes to succeed in this area. Not everyone is made out for remote work, and if you're used to working in an office setting, you'll have to change some of your habits.
Aside from the necessary hard skills (which we'll discuss later), there are a few characteristics that will help you succeed as a remote developer. Here are some of them:
Work Ethic
It's up to you to arrange your schedule and make sure you get things done without the framework of office life. It's easy to get carried away with remote employment's flexibility, and the borders between business and personal life may blur.
You'll need to be disciplined when it comes to arranging your day, setting regular working hours, and avoiding the urge to put some assignments on hold in favor of "Life admin".
Good Communication Skills
Communication is essential in every profession, but it is especially so while working remotely. You can't just disappear off the grid for days on end without your coworkers being able to contact you by email, instant messaging, or video conference in the absence of face-to-face contacts.
As a remote worker, it's critical to demonstrate that you're just as dependable as an in-house employee; you must be reachable, responsive, and transparent about the status of your projects.
Time Management
Working remotely has several advantages, one of which is the autonomy it provides. But with autonomy comes responsibility. You'll need to prioritize your tasks, establish your deadlines, and make sure you're properly managing your time.
If you're naturally an organized person, this won't be too different from how you typically operate.
How Much Money Do Remote Developers Make?
The typical base income for a web developer is $67,000, and remote web developers may earn as much as, if not more, than their in-office colleagues.
There's no need to believe that just because you're working from home, you have to accept a reduced wage. Consider your degree of experience and location when negotiating your salary, and use the typical wage for the job as a guideline.
How Can You Become a Remote Developer?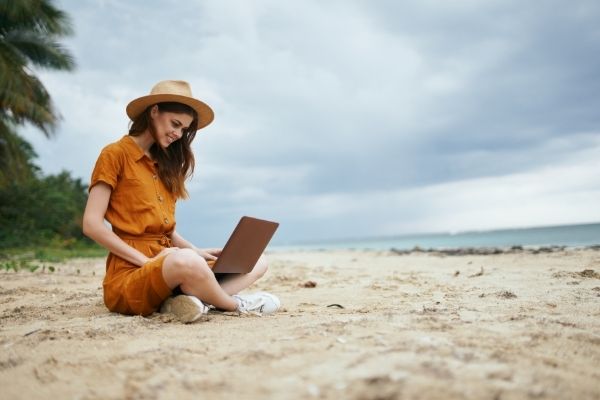 The following steps will guide you on the right path:
1. Learn the Skills Required to Work as a Remote Developer
As remote employees can be located virtually everywhere, you must have either specialized expertise or a skill set that is in demand. You're up against the whole employment market.
Having a solid portfolio is always good, but having a good understanding of the topics is crucial. If you're looking for a remote job right out of college, you won't be able to since you'll need to "Show your value" before someone will take a risk on you blindly.
So whatever your technology stack is, become really good at it. Make sure you are sound in technical skills.
2. Build a Portfolio
With so much competition, you must tailor your resume to the type of job you want. The more specialized your resume is for a position, the more likely you'll be called in for an interview.
Your portfolio is likely to be the most effective tool for getting in the door and succeeding in an interview. You should produce and promote personal initiatives that are directly connected to the position you are looking for, just like you would on your resume.
This implies that you may need to program in your spare time and create projects. Is it necessary to have a huge project? No. It only has to be large enough to demonstrate your understanding and skill with the technology in question.
Ideally, you can create a portfolio website that contains information about you and all the projects you have done. Try to be a bit innovative. You can try creating a video resume or something else that people usually don't do.
3. Search for Remote Developer Jobs
There's indeed a vast pool of candidates for remote software development positions. This also implies that persons seeking a remote job have a broad pool of options to choose from. While there is fierce competition for remote software development employment, this also means that more possibilities are available.
When looking for remote employment, it's critical to cast a wide net. Use every resource at your disposal to locate and apply for suitable remote opportunities.
Remote software engineer jobs come in a variety of forms. Part-time, full-time, contract-based, and freelance development positions are available. If you thrive in a solid team atmosphere with employer motivation and a mentor, you should search for full-time employment.
Contract or freelance employment provides additional freedom, such as the option to create your schedule, set your fees, and be your boss. Just keep in mind that you are solely responsible for your pay and success in these scenarios, and you will most likely want to choose your mentor.
You would also need to set up your company procedures, such as billing, scheduling, and insurance. Upwork and Toptal, for example, provide online freelancing platforms that can do these tasks for you.
4. Useful Job Portals
Entry-level opportunities are seldom listed online. Below are some of the websites for finding remote developer jobs:
Glassdoor
Honeypot
Indeed.com
LinkedIn
StackOverflow
Weworkremotely.com
Remotive.io 
The most effective technique to secure remote work is to build your network. Connect with other developers or workers from the firm you're applying to on LinkedIn or AngelList to make your application stand out. Contact them and ask if they'd be willing to talk about what it's like to work on their team.
5. Prepare Your Remote Setup
This may be obvious, but it is crucial. If you plan to work remotely full-time, you must have a dedicated work environment that includes a good desk, a comfortable chair, good lighting, a stable internet connection, and a decent laptop.
Without the correct environment, it will be tough to concentrate and throw oneself into hours of coding or debugging. It's critical to treat your remote profession as seriously as any in-house role, which involves providing yourself with the necessary tools and surroundings.
6. Be Responsive, Polite, and Persistent
When talking with potential employers, be responsive. To be successful in a remote role, you must communicate effectively and politely.
The nature of remote work means you'll get a lot of radio silence in response to your applications. Don't let this get you down. They frequently lack the time and resources to respond to all the candidates.
Continue to apply for jobs that you are interested in and qualify for. If you haven't heard back after a few weeks and it's a position you're passionate about, you can resubmit your application. Otherwise, consider that the job is no longer open and continue your search.
Hit the job boards, let people know you're seeking, and keep the resumes coming in. You'll eventually start to see the results of your labor.
Final Thoughts
Finding a remote software development job can be a time-consuming process. Before you see any benefits, you usually have to put in a lot of time and work.
Meanwhile, maintain your professional development, employ the strategies I've discussed in this post, and you'll soon be working in your pajamas.
Check out this article for 5 unique tips for working remotely as a programmer.
Best of luck!