The word "data scientist" is a modern category of analytical experts that has been recently caught the attention of many aspirants. A data scientist knows very well how to convert data into full knowledge. To put it another way, a data scientist asks the right questions and solves difficult problems by integrating a combination of analytical, logical, and technological skills. A habile data scientist expert is intrigued about the issues that need to be solved.
The great thing is that, like many other careers, this profession is heading into the freelance world. You may be employed with a good company also, with the good pace you can move into the world of freelance work as per your choice. In this article, I'll guide you on how to become a freelance data scientist.
What Do Data Scientists Actually Do?
In case if you don't know what does a data scientist do, I'll tell you that first. Data scientists are the experts who deal with data science. A data scientist can add value to any company. Data extraction, data mining, data storage, and data analysis are some of the methods used in data analytics.
Data scientists act as a trusted advisor to a company's management and play a crucial role in every organization by educating them on the importance of the company's data to better upper management decisions. Firms can expand and boost their efficiency as a result, resulting in high revenues.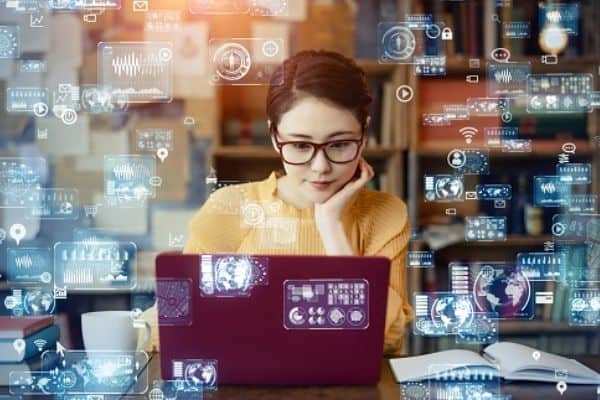 Also, data scientists assist the company in recognizing patterns and determining priorities. Furthermore, data scientists ensure that the staff can handle the companies' analytical goods, make decisions based on data-driven facts, and identify and optimize customers to help the profitability.
How To Become A Freelance Data Scientist?
It isn't necessary, but gaining experience working in the sector before beginning a freelance career is probably the best bet. Having the expertise, experience, training, and mentoring that comes with being an employee, as well as the secure job that comes with it, can prove to be a good starting point. Once you gain confidence that you can do multiple assignments, then you can step into the world of freelance.
You must work on the things listed here:
Working on several projects is a plus
This knowledge can come from your college, your professional career, or even volunteer work. If you're a novice, you can gain experience by offering service to a local company. You will work for a corporation while learning the ropes of freelancing. However, the experience is needed to prove that an organization will like to recruit you, which is mostly done remotely. To complete the next prerequisite, you'll need experience.
Create an eye-catching portfolio
You must have a portfolio that demonstrates how your skills have been applied in the real world. This should include a variety of projects that demonstrate your ability to do a variety of tasks, such as cleaning and analyzing data, developing and testing hypotheses, and illustrating the significance of the final results.
How to showcase your portfolio
Since the biggest advantage of becoming a freelancer is the freedom to work from home, hence there's a fair chance you'll be able to find work from home. As a result, the first point of contact with prospective clients will almost certainly be online. 
Albeit, you can choose a personal website as a great way of showing off your work. Keep your portfolio section easy to access, and make sure your contact information is prominently displayed. When clients are looking for data science freelancers, using key search words will help your site appear.
Pitch an online platform to get work
To find jobs, you'll probably have to use an online site or a freelance directory. Many exist where clients post jobs and freelancers bid on them, or where clients approach freelancers with particular work in mind (some examples are Upwork, Freelancer, etc.). Do not forget to include high-quality samples in your work profile.
Grit and initiative to find work
Although online platforms can allow you to offer jobs, you should also come up with new ideas when looking for worthwhile and rewarding work. Consider your local area and search for entrepreneurs or start-up companies that might benefit from your experience. While they may not be able to recruit large agencies, they may be able to hire you.
Sometimes you begin by offering your services at a lower rate, with the bonus of a freelance project to add to your portfolio. Perhaps a share of profits can be negotiated in a new business. To ensure your success, you must be proactive. 
Network
Data science events, as well as start-up and small business meet-ups, are excellent opportunities to network with founders and meet new people. Try to listen to them and help them in any way you can, and you never know, you might just land your next client from that one chance meeting!
The ability to manage a business
Aside from the fun aspects of being a freelancer, such as seeking exciting work and doing it, you'll also have to balance other administrative tasks, such as accounting and tax preparation. As you start your freelance business, you'll have a lot of resources at your disposal.
It can include utilizing small business resources, as many groups have entrepreneurial support organizations. You can also take advantage of online resources, your peer group, and freelancer manpower.
The ability to plan ahead of time
When opposed to a 9-5 job, this means being inspired to work at often odd hours. You must ensure that you meet client deadlines while still finding time for administrative duties, job searching, and other facets of your life. Working for yourself can mean a lot of work, notably when your company grows.
Why Should You Become A Freelance Data Scientist?
After all, venturing out on your own can be intimidating. It's a dilemma where you'll find jobs and whether you'll raise enough money to justify your efforts. Let have a look at some good reasons to take on a freelance business:
Marketplace
The demand is increasing for data scientists in today's era. Businesses are appreciating the importance of data science, and want your inventiveness to assist them in interpreting data and turning it into ideas. Employers are becoming more used to dealing with a remote workforce and becoming more likely to recruit contractors rather than workers.
Flexible schedule 
You live in a flexible work schedule as a freelancer. You may need to work weekends to complete the work, but you may also be able to take an afternoon off to go for a walk. For many people, this is a huge bonus. Another value is the opportunity to operate remotely from anywhere.
Learning
You will get the opportunity to do different kinds of work with different types of freelancing people, where you will have good learning.
Dynamic
A freelance career is an exciting dynamic opportunity for those who can take a risk, keep fit, work independently, remotely, and run their own company.
Final Thoughts
The above discussion highlights that freelancing is a good career option for Data Scientists. Data scientists are in high demand, which means that you can gain valuable experience in your profession. It also means that those who want to become a data scientist, or who have already started in the field, have a wide range of options. 
I hope this article was helpful. Now it's time for you to take action!